On January 11, at the "2022 Global Investment Trend Forum and the 6th Golden Hong Kong Stocks Award Ceremony" held in Shenzhen, CIMC Vehicles (301039.SZ/01839.HK), with its strong development momentum and industry-leading core technology , won the "Most Valuable Industrial Manufacturing Company" award.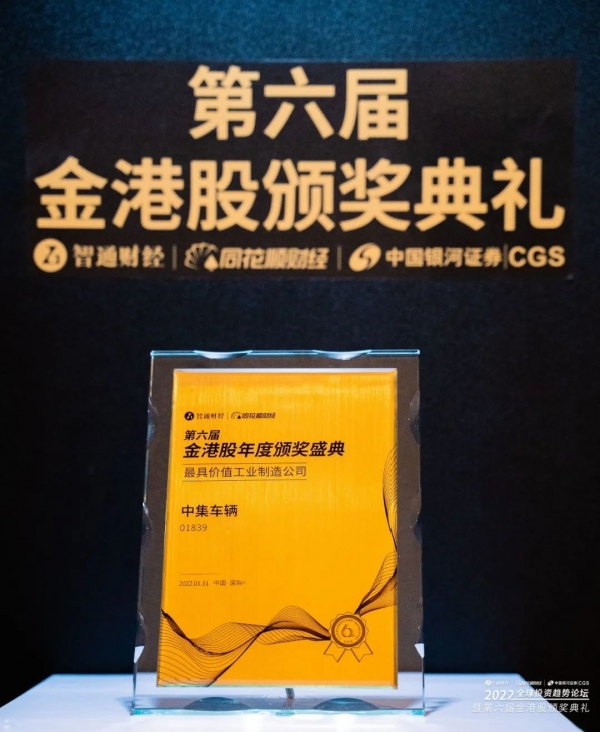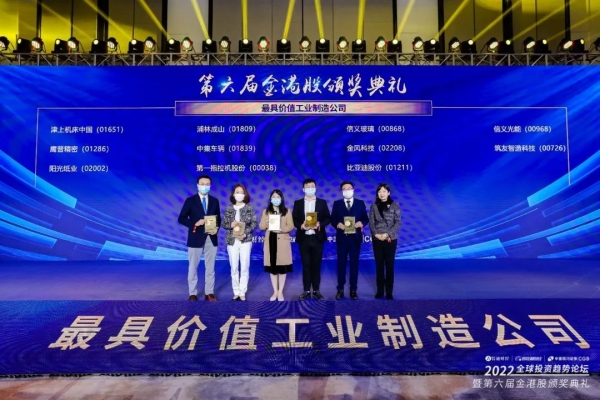 The event was co-hosted by China's leading Hong Kong and US stock information platforms Zhitong Finance and Flush Finance, and attracted more than 1,000 Hong Kong-listed companies to sign up for the event. The total market value of participating listed companies exceeded 20 trillion yuan.
The "Most Valuable Industrial Manufacturing Company" award aims to recognize industrial manufacturing Hong Kong-listed companies with healthy corporate governance structure, prominent industry status, good main business, and can provide investors with sustained and stable value returns. CIMC Vehicles won the "Most Valuable Industrial Manufacturing Company" award this time, highlighting the attention and recognition of the industry and investors, which is a great encouragement and a spur to CIMC Vehicles.
At the same time, with the high-frequency and high-quality capital market communication service work in 2021, the IR team of CIMC Vehicles also won the "Best IR Team Award" in this selection.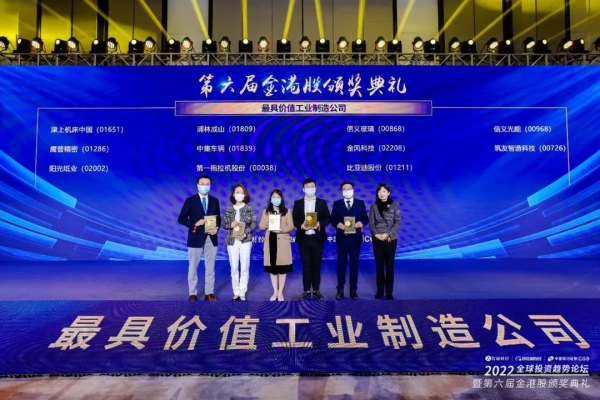 As the world's No. 1 semi-trailer manufacturer, CIMC Vehicles has been exploring the construction of a high-end manufacturing system since 2014 and set up a "lighthouse" factory. Currently, 13 semi-trailer "lighthouse" factories and 6 special-purpose factories have been built at home and abroad. The "Lighthouse" factory is installed on the car, and 2 light-duty van body "Lighthouse" factories are installed.
At the moment of industry change, CIMC Vehicles continues to implement the core measures of "Five Cornerstones of High-end Manufacturing System", and actively carries out digital transformation and upgrade.
In the list of the first three batches of national-level specialized and special new "Little Giant" enterprises that have been announced, a total of 3 subsidiaries of CIMC Vehicles have been rated as national-level specialized and special new "Little Giant" enterprises, namely CIMC Vehicles (Jiangmen City) Co., Ltd., Zhumadian CIMC Huajun Foundry Co., Ltd. and Gansu CIMC Huajun Vehicle Co., Ltd.
In addition, Wuhu CIMC Ruijiang Automobile Co., Ltd., a subsidiary of CIMC Vehicles, was listed in the 2021 Green Manufacturing List recently announced on the website of the Ministry of Industry and Information Technology of the People's Republic of China, and was awarded the national "Green Factory". Prior to this, Gansu CIMC Huajun Vehicle Co., Ltd. and Yangzhou CIMC Tonghua Special Vehicle Co., Ltd. were also selected as provincial "green factories" this year.
In terms of investor relations, CIMC Vehicles has always attached great importance to investor protection and management, continuously optimized the investor return mechanism, improved corporate governance, enhanced the company's transparency, and effectively safeguarded the rights and interests of small and medium investors. Since its establishment, CIMC Vehicles has adhered to the principle of maximizing shareholder value, and has continued to reward shareholders with excellent dividend yield and cash dividends, ranking among the top listed manufacturing companies.
This award shows the clear strategic direction and efficient corporate governance of CIMC Vehicles, which further consolidates the company's good image in the capital market. In the future, CIMC Vehicles will continue to build a "high-end manufacturing system" in an all-round way, deepen the business model of "cross-ocean operation and local manufacturing" under the current globalization background, consolidate "new infrastructure for management", and achieve high-quality development.